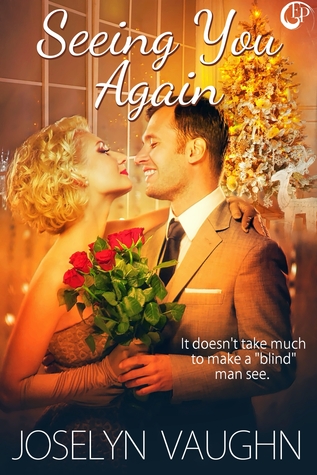 Is a red sequined dress enough to catch a husband's attention? In this short and sweet romance, Joselyn Vaughn introduces us to a couple whose marriage has lost its sizzle. But an evening with a bunch of zany senior citizens may shake things up.
I enjoyed this story on many levels. First of all, the hero and heroine seem like real people, and they have real love for one another. They just happen to be in a slump! I also like the inclusion of men and women from the retirement home. They add humor to the story and show that just because you've grown older doesn't mean you don't know how to have fun.
Genre:
Sweet Romance
Book Length:
50 Pages
Amazon Link:

Seeing You Again
Author's Blog:

"Romance With a Case of the Giggles"
Book Beginning:
Chaperoning? His wife didn't know him at all. Sam flicked a speck of dust off the charcoal suit hanging from the bathroom door. He could be settled in his easy chair with a bowl of popcorn and a college football game on the television instead of stuffed into his Sunday suit, making sure his mother didn't take another ride in a police car.
The Friday 56

(from 56% on my Kindle):
One cup of punch laced with tequila, and he was as befuddled as if he had consumed half the bowl. A sequined silhouette appeared in his imagination, and he realized she was more than likely the source of his befuddlement.
Synopsis:
After twenty-five years with Sam, their lives revolving in circles that barely touched let alone overlapped, was it time Margie consigned their marriage to an album of faded photographs? The Christmas ball at her mother-in-law's retirement home would either be the final straw for their failing marriage or the perfect chance to reignite the old flame. Can the happy-go-lucky shenanigans of the retirement community remind Margie and Sam that falling in love has no age limit?
Anyone can participate in Book Beginnings on Friday and The Friday 56.
Click HERE to connect to other

Book Beginnings

posts (sponsored by Rose City Reads)
Click
HERE
to join other
Friday 56
bloggers (sponsored by Freda's Voice)