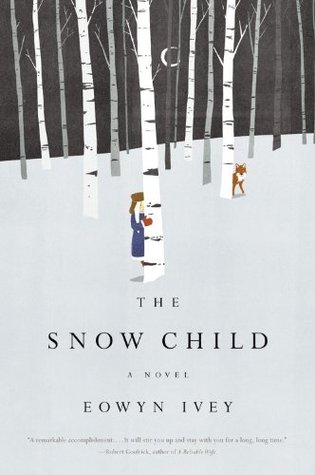 The Snow Child

is one of the most fascinating books I've read in a long time. The author enthralled me with her descriptions of the hardships of homesteading in Alaska in the 1920s and had me wondering if one of the characters was actually real or if she existed only in the imagination of the husband and wife who lived in the wilderness. I really could not put this book down!
The Snow Child was a Pulitzer Prize finalist for fiction in 2013, was given the 2013 Indies Choice Award for debut fiction, and received numerous other awards.
In my opinion, all of them were richly deserved. Readers who enjoy adventure, history, and magical realism or who just like a good story will definitely enjoy this book.
Book Beginning:
Wolverine River, Alaska, 1920
Mabel had known there would be silence. That was the point, after all. No infants cooing or wailing. No neighbor children playfully hollering down the lane. No pad of small feet on wooden stairs worn smooth by generations, or clackety-clack of toys along the kitchen floor. All those sounds of her failure and regret would be left behind, and in their place there would be silence.
Friday 56
from 56% on my Kindle (Mabel is lost at night in a snowy forest.)
As it made its way beneath her clothes, along the skin of her ribs, down the curve of her spine, she knew it for what it was--a death chill, a chill that if allowed to take hold would freeze the life from her. As if to confirm her suspicions, her teeth began to chatter.
Genre:
Literary Fiction / Metaphysical
Length:
404 Pages
Amazon Link:

The Snow Child
Author Website Link:

Eowyn Ivey
Rather than post the book's synopsis, here's the trailer: