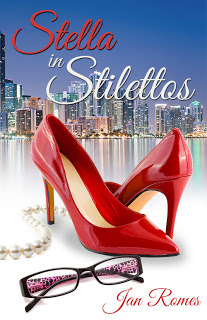 I'm only partway into

STELLA IN STILETTOS

by Jan Romes, but I can already tell it's going to be a fun story. Looks like Stella has to choose between two men--Mr. Right (she has communicated with him online only, through an online dating site) and sexy co-worker Alex Clay (AKA Mr. Wrong). The dialogue is witty, and the characters are likable and seem real. I'm enjoying the author's writing style and sense of humor, and I'm looking forward to finding out who Stella ends up with!
Here's the BOOK'S BEGINNING:
"Calm down, people," Stella Matson muttered under her breath, fumbling with the sip-tab of her Styrofoam cup. All she wanted to deal with was the caffeine buzz, not the bedlam of Monday morning. Today, the commotion seemed extra loud, almost deafening. She took a careful sip of piping hot coffee.
And here's my FRIDAY 56 choice from 56% on my Kindle:
Stella practically fell into Alex's arms. He whirled her onto the dance floor.
Genre:
Contemporary Romance
Length:
269 Pages
Amazon Link:

Stella in Stilettos
Other Books by Jan Romes:

Amazon Author Page
Synopsis:
~ Sometimes you have to break the rules; sometimes you have to break them wearing stilettos ~
Stella Matson has had it with handsome guys who schmooze their way into a woman's heart and walk out the door when they get a better offer. As far as she's concerned, she needs to focus on the one thing that won't leave her teary-eyed on a Friday night - her job with the lingerie company. When drop-dead gorgeous, Alex Clay, is assigned to her department, the plan to focus on work is threatened along with her heart.
Alex Clay is restless and trying to find his place in the business world. His boss seems to be grooming him for big things by giving him a taste of everything from the mailroom to the boardroom. When he does a short stint in the advertising department and meets hardheaded but intriguing, Stella Matson, she challenges his convictions and stirs an unwanted desire. He doesn't know whether to kiss her until they're both breathless, or find a new job.
*********
Anyone can participate in Book Beginnings and The Friday 56.
Click

here

to connect to other

Book Beginnings

posts
(sponsored by Rose City Reader)
Find other

Friday 56

bloggers

here
(sponsored by Freda's Voice)